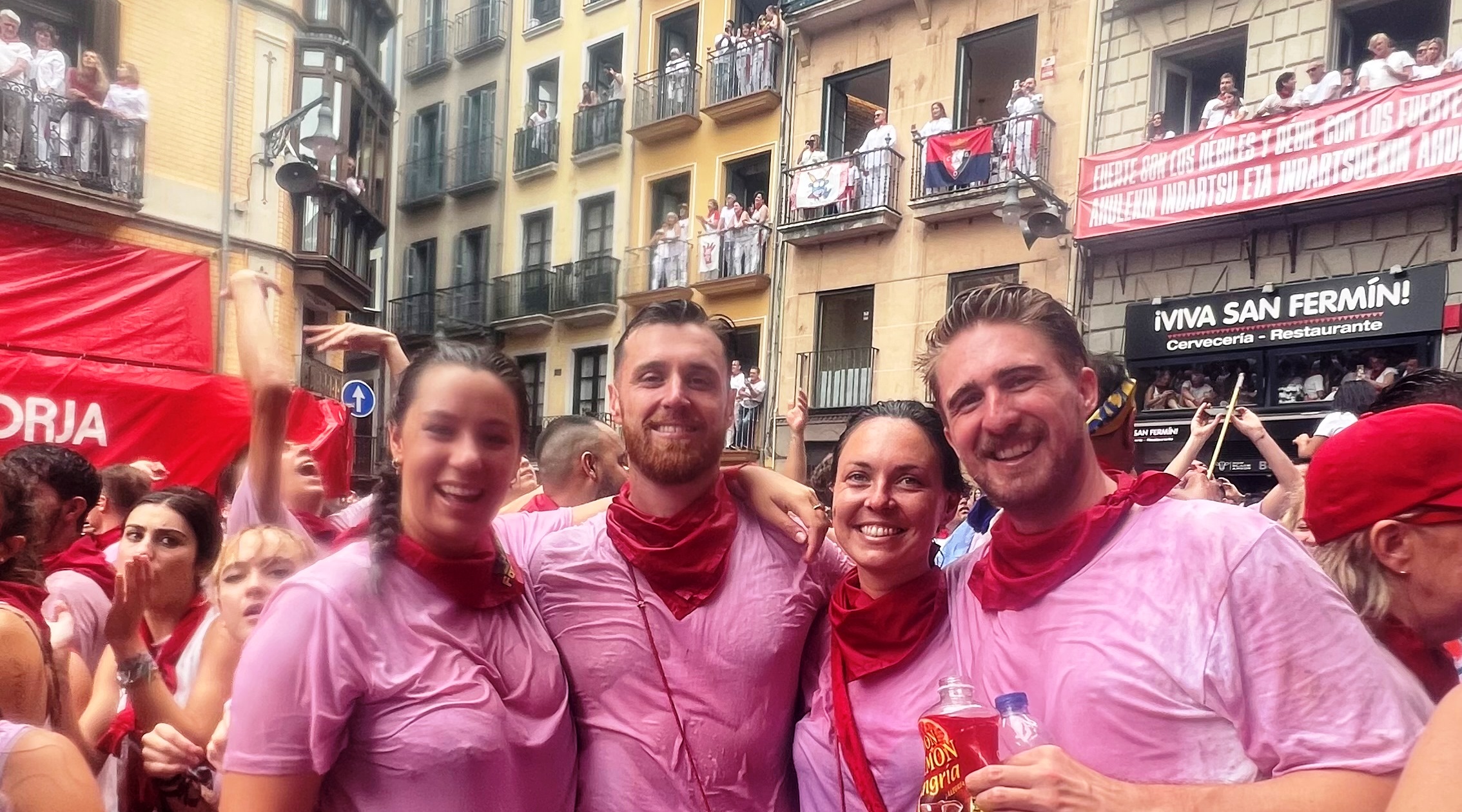 Do I have to run with the bulls?
Running with the bulls is not an expectation when travelling on our tours. Anyone who does choose to run with the bulls does so at their own risk - every year there are very serious injuries & often deaths. Injuries are not just from the bulls, it's easy to fall and be trampled as well. The most recent death was in 2009 when a runner was speared by a bull horn and died at the scene. Be warned, running with the bulls is not a joke. If you do run, and you make it to the main arena, you will then be forced to wait on the bull ring floor with thousands of other runners as more bulls are released into the arena - it's every man for himself and the action is frightening if you're a runner, or hilarious if you're in the safety of the grand stands.
How do I watch the bull runs safely?
In order to get a different perspective each day, we recommend watching the bull run from inside the main arena in the safety of the grand stands on your first morning (€8, tickets availble for purchase in the morning). Then, on your second day, watch it from behind the tall safety barricades on the streets. If you're staying for a third day, take your pick! Many locals also sell places on their balcony to watch the bull runs, you will see them hawking for business each day on the streets.
Is the Opening Ceremony a must?
The Opening Ceremony is certainly a major highlight of the festival with what seems like the entire town along with plenty of tourists partying in the streets with sangria in hand throughout the afternoon. Bars are cranking, bands are playing and plenty of sangria and beer is flowing!
Can I share accommodation with my mates?
Of course! If you'd like to share a hostel or hotel room with your friends just email us at
[email protected]
with everyone's names and we'll link your bookings to get you together on the tour.
Where is the Fanatics accommodation located?
Our hostel is located in Pamplona's old town. The hostel caters for 36 guests and we have a tour leader based at the hostel to ensure you don't miss a minute of the bulls & street party action!
Our Pamplona hotel is 30 minutes' walk (or 8 minutes on the local bus) from the old town centre and is the perfect base to experience the entire festival day & night. Our private coach shuttles into the old town centre & back are included each evening as well as for the opening ceremony and first two bull runs.
Our campsite is just 7km/10 mins from the heart of Pamplona. Shuttles are included to get you to our walking tour & pre-festival evening in town on 5 July, the festival opening ceremony on 6 July, the morning bull runs on 7 & 8 July and the evening street party on 7 July.
What do I need to bring with me?
We'd advise you to only bring along what you're going to need while at the festival. Here's a quick rundown of what you'll need:
Clothes:
During the Running of the Bulls everyone wears all white and a red scarf for the entire festival - day & night. All Fanatics travellers will receive their white tour t-shirt and red scarf when they arrive. Cheap white trousers are easily purchased in town, there's no need to buy them before you depart. Forget wearing your usual going out threads at Pamplona - all you wear in town is white!

While days are usually warm to hot evenings can be cool so bring along a variety of clothing for hot, cool &/or rainy weather.

Closed shoes - the large amounts of glass on the streets means closed shoes must be worn at all times when in town (i.e. no thongs/flip-flops, sandals etc).
Essentials:
Passport (a visa is not required for Aussies & Kiwis)

Travel insurance documents - contact us if you'd like information on purchasing travel insurance

Any essential personal medication
Is there anything I need to know before I come to maximise the trip?
All tour information is on our website and will be on our tour notice boards during the festival. Our Facabook event page is the perfect place to link up with other people coming along on tour or ask our crew any questions you have about the festival.
If booking for more than one person what is the best way to pay?
Getting a group along to Pamplona? You can either make your booking together on one invoice by paying the deposit payment on one card and then making balance payments on as many different cards as you like, or you can simply make individual bookings and then email us at
[email protected]
and we will link your booking invoices together.
When is final payment due?
Final payments are due six weeks before the tour. When making your booking you can either pay the full balance or deposit amount. Bookings made within six weeks of the tour require full payment when booking.
How can I make my final payment?
Payments can be made online or by calling one of our offices. To pay online simply sign in at the top of this page and then go to 'My Invoices' and 'Pay'. Part payments can be made using multiple cards.
Contact us
to pay over the phone.