Pamplona 2022 - Pamplona + San Sebastian Combo
Pamplona 2022 - Pamplona + San Sebastian Combo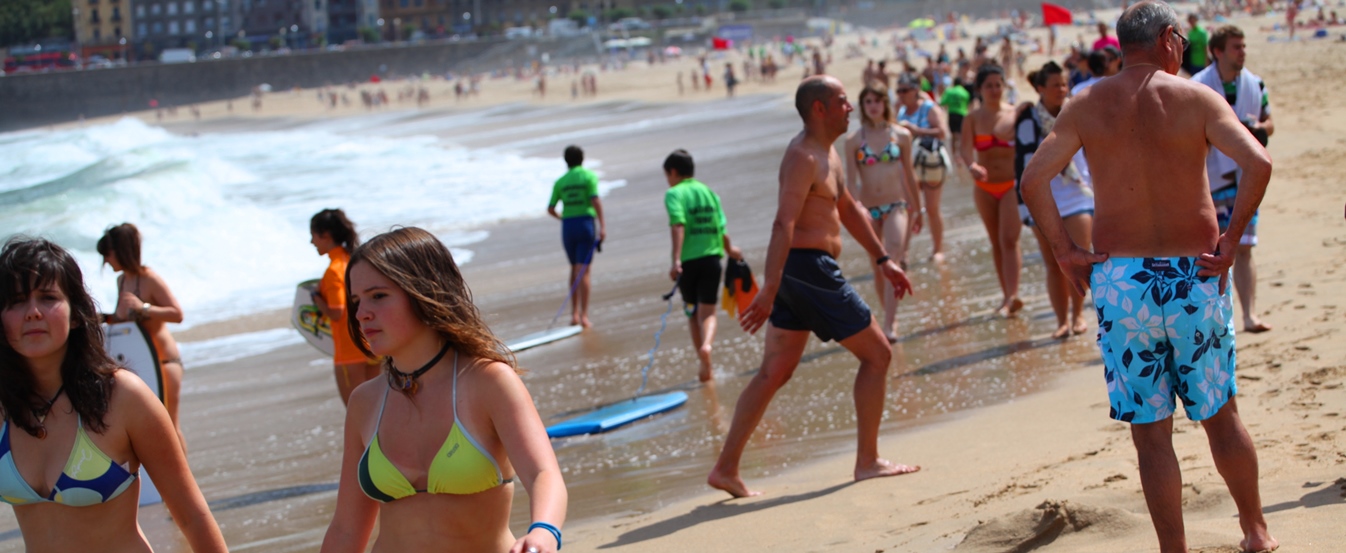 Overview
Register your details HERE and we will keep you updated with details for our 2022 packages!
San Sebastian, located on the southern coast of the Bay of Biscay in Spain's Basque region, is one of the true gems of Spain. The city was originally established in 1150 and was a favoured hang out of Spanish royalty since the middle ages. Today San Sebastian is still the perfect place to spend a few days by the beach in a unique cultural setting and will be Fanatics sea-side base before, during and after San Fermin.
Pamplona + San Seb Combo
This offers the perfect wind-down to the sangria-fuelled fiestas and bull-runs of Pamplona's San Fermin festival. But be warned, while San Sebastian might at first glance seem like a sleepy Spanish sea-side town, this place rocks each night through summer!
Fanatics Pamplona Campsite
Fanatics is the number #1 Pamplona tour provider thanks to our incredible campsite location and extensive coach shuttle service. Our Pamplona campsite is just 7km from the heart of Pamplona. Our shuttles run more often and for longer hours than anyone else's meaning you'll experience more of Pamplona's Running of the Bulls and San Fermin festival with Fanatics.
Single-share pre-erected tents are included as standard for all campers - no sharing with randoms! Our tents are large enough to sleep three adults so if you want to share a tent with a friend then that's fine too, or if you'd prefer we also have a bunk-bed dormitory available at the campsite!
San Sebastian
San Sebastian is truly awesome - laze on the beach, go for a swim or a body bash, wander round the awesome old part of town, tuck into the local cuisine and check out any number of its hundreds of classic Spanish tapas bars.
Our Hostel
Hostels in San Sebastian are guesthouse-style based in former residential apartments. Fanatics San Sebastian hostel consists of rooms with 4-8 bunk beds. Our hostel is incredibly located within easy reach of San Sebastian's beaches, historic town centre and its after-dark fiesta district. The hostel is the perfect base for your stay in San Sebastian during San Fermin.
Any Questions?
Email us at
tours@thefanatics.com
if you have any questions about the tour.
Inclusions
All-inclusive camping at the closest campsite to Pamplona

Single share tent upgrade at no extra cost - no sharing with randoms!

Dorm bunk upgrades also available

Breakfast daily at the campsite - all you can eat!

Free dinner every night at the campsite

Free coach transfers between camp & town - early morning till late night!

Pre-erected tents with sleeping mat & pillow

Fanatics Street Fiestas with free sangria

Funky Fanatics running-of-the-bulls souvenir T-shirt

Fanatics San Fermin Pañuelo (neck scarf)

Guided walk of the bulls course with our experienced bull runners

Champagne Opening Ceremony on 6 July

Run with the bulls (or watch safely in the stands!)

Experienced Fanatics Pamplona tour leaders

Two nights in San Sebastian old town

San Sebastian beaches & nightlife
Itinerary
Monday 4 July - An extra night of accommodation can be added during the booking process.
Tuesday 5 July - Pamplona Arrival
Welcome to Pamplona! Campsite arrival details will be available on our tour website four weeks before the festival. We have coach transfers available this afternoon from Pamplona bus station to our Pamplona campsite. The campsite is also accessible by taxi (approximately €25) from Pamplona bus or train stations.

Optional arrival transfers are available today from Bilbao airport and Barcelona (city centre & airport). These can be added when making your booking or can be booked separately later.

Check-in is available at our campsite from 10am to midnight. If you arrive after midnight a contact number will be posted at the campsite reception and our check-in crew will come out to meet you. Upon arrival your tents are all set up and ready for you along with your camping luxury pack - or you can choose our campsite dorm bunks when making your booking.

This afternoon our coach shuttles run into town for our orientation walks along the bull run course after which you can look around Pamplona's old town centre and sample some of the city's famous tapas bars.

Tonight we get into the fiesta spirit at our campsite with hundreds of fellow Fanatics passengers and plenty of sangria! Our live band will be kicking off a massive night at the campsite on the eve of the San Fermin fiesta!

Wednesday 6 July - San Fermin Opening Ceremony
Today sees the opening ceremony of the San Fermin festival and the biggest street party you will ever see! This morning people gather in front of the town hall where at midday Pamplona's mayor lights the firework officially starting the festival. If you would prefer to avoid the tight crowds in front of the town hall you can watch the events unfold via the big screens in the main square.

The champagne & sangria then starts flying throughout the old town centre and an afternoon of unbelievable street partying follows. From the town hall and main square the party moves along to the St Cecilia Fountain and up to Mirador del Caballo Blanco (White Horse lookout).

The festivities continue through the afternoon, once you've had your fill you can head back to camp on our coach shuttles from the bus station. Then have a swim in the campsite pool and grab some dinner from the restaurant before our band cranks things up again at tonight's campsite party!

Thursday 7 July - First Bull Run & Street Fiesta
This morning our coach shuttles head off bright and early for the short ride into town where we get in position for the 8am bull run. To watch the bull run you have the option of finding a place along the street barricades or heading into the bull ring to watch the bulls and runners enter the stadium and the release of the year-old bulls into the arena. Anyone interested in renting a place on a balcony along the bull run course should look into that during the orientation walk on 5 July.

After the bull run Pamplona's 'Parade of Giants & Big-Heads' departs the town hall and heads through the streets of the old town centre. Then our shuttles return you to camp where breakfast will be served.

Today we have an optional day trip to the amazing coastal town of San Sebastian, well regarded as one of Spain's most beautiful beaches and traditional old cities. It's a great day and sure to energize the batteries after the madness of the San Fermin festival. You can add this when making your booking or book separately later.

This evening we jump on board our transfers into town ready for the huge nightly fiesta including street parties, a massive fireworks display, and loads of tapas bars pumping out the tunes. Tonight hundreds of Fanatics t-shirts will be lining Calle San Nicolas as we get stuck into the Spanish party in a big way!

Our shuttles back to camp operate till late in the night allowing you to kick on before catching a few hours' sleep.

Friday 8 July - Second Bull Run & San Sebastian
This morning's second running of the bulls takes off at 8am and this time you'll be there with a trained eye. It's a great chance to experience the running from a different vantage point and catch the thrills and spills of all the action!

We then return to camp for breakfast before boarding our coach transfer to San Sebastian. After checking-in at our San Sebastian hostel the afternoon is yours to relax, head down to the beach and catch some more of that Spanish sunshine. Tonight we head out in on of San Sebastian's many excellent bars and keep the festival spirit alive!

Saturday 9 July - San Sebastian Old Town, Beach & Party!
Today it's up to you whether to spend the day relaxing on one of San Sebastian's excellent beaches or exploring the historical gems in town. For those with the energy to tear themselves away from the beach a great option is to climb one of San Sebastian's surrounding hills - Mount Urgull and Mount Igueldo offer sensational views of the old town and bay.

Tonight is our massive closing night party in town.

Sunday 10 July - San Sebastian Check-Out
This morning after breakfast it's time to check-out of our hostel and continue your Spanish travels.
---