Pamplona 2022 - Pamplona + Ibiza Combo
Pamplona 2022 - Pamplona + Ibiza Combo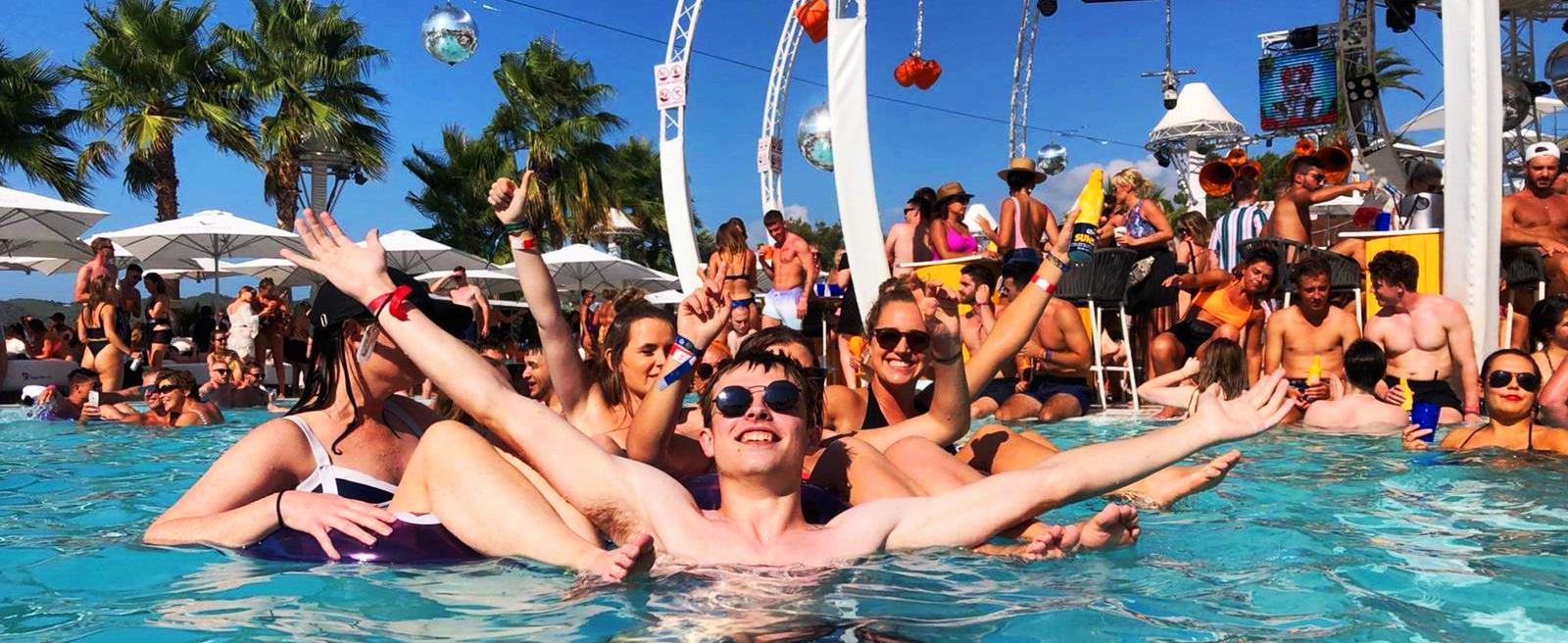 Overview
Register your details HERE and we will keep you updated with details for our 2022 packages!
For those of you keen to keep that fiesta feeling going why not join us as we hit the famous party island of Ibiza!
After all the craziness of the San Fermin festival we're heading down to Valencia and over on the ferry for three action-packed days and nights in Ibiza. In addition to its world famous summer party scene, Ibiza is seriously one of the most beautiful Mediterranean islands you could hope to find.
Pamplona & the Running of the Bulls
Pamplona's San Fermin festival is a week-long fiesta consisting of fireworks, parades, all-night partying and of course, the daily running of the bulls. The opening ceremony (at midday on 6 July) and the first bull run in the morning of 7 July are the focal points of the festival. Renowned the world over, this is one European festival definitely not to be missed!
Ibiza
Long famous amongst the Spanish as an island of unrivalled beauty and choc-full of secluded beaches, the island of Ibiza has since become synonymous with party! for young people from all over Europe and beyond. Our three nights on the island combines the best of both worlds with plenty of time set aside for partying and chilling out on Ibiza's pristine beaches & crystal clear waters.
Getting to Pamplona
There are no direct flights between London and Pamplona so we operate coach transfers from Barcelona, Bilbao and Madrid directly to our Pamplona campsite. These can be booked with our accommodation packages or
added separately HERE
.
Flights from London to each are operated by
EasyJet
and
British Airways
. For flights to other cities in Spain try
Iberian Airlines
. For train travel to Pamplona go to
Trainline
or
Renfe
and for coach travel try
Monbus
,
La Union
or
Alsa
.
On 5 July we operate our own private afternoon shuttle service from Pamplona Bus Station direct to our Pamplona campsite for €5. The campsite is also accessible from town by local bus and taxi (approximately €20).
Any Questions?
Email us at
tours@thefanatics.com
if you have any questions about the tour.
Inclusions
All-inclusive camping at the closest campsite to Pamplona

Single share tent upgrade at no extra cost - no sharing with randoms!

Dorm bunk upgrades also available

Breakfast daily at the campsite - all you can eat!

Free dinner every night at the campsite

Free coach transfers between camp & town - early morning till late night!

Pre-erected tents with sleeping mat & pillow

Fanatics Street Fiestas with free sangria

Funky Fanatics running-of-the-bulls souvenir T-shirt

Fanatics San Fermin Pañuelo (neck scarf)

Guided walk of the bulls course with our experienced bull runners

Champagne Opening Ceremony on 6 July

Run with the bulls (or watch safely in the stands!)

Experienced Fanatics Pamplona tour leaders

Optional San Sebastian beach day trip

Coach & flight transfer to Ibiza

Three nights twin-share Ibiza hotel accommodation

Incredible Ibiza beaches & clubs!
Ibiza Partying
Long famous amongst the Spanish as an island of unrivalled beauty and choc-full of secluded beaches, the island of Ibiza has since become synonymous with
party!
for young people from all over Europe and beyond. Our three nights on the island combines the best of both worlds with plenty of time set aside for partying and chilling out on the beach.
Fanatics Parties & Clubbing in Ibiza
Every year we party at the biggest & best clubs in Ibiza including Amnesia, Privilige, Space, Eden & more. We have exclusive access to tickets ensuring everyone on our tour is able to party together with the biggest DJ's on the island - whether it's Dave Guetta, Too Many DJs, Fat Boy Slim, Hedkandi, Paul van Dyk, Pete Tong, Tinie Tempah, Tiesto, Cream, Zoo Project or the many other top class DJs, you'll be partying in style!
If the club scene isn't your thing, or at least not every night, rest assured Ibiza offers much more than just all-night partying and our reps organise group activities each day & evening. Amazing beaches, top quality & value for money restaurants, relaxing cafes, all manner of water sports, and a holiday vibe to suit every taste.
Ibiza Accommodation
The incredible
Ibiza Feeling Hotel
, located right in the middle of San Antonio's West End, is the perfect base from which to get the most out of everything Ibiza has to offer. Superclubs, pre-club bars, beaches and sightseeing cruises are all just a stone's throw away.
Rooms sleep two people (two single beds) and have a private bathroom and air-conditioning. Guests have access to the outdoor pool at the hotel next door with sun terrace, loungers & poolside bar.
Itinerary
Monday 4 July - An extra night is available to add during the booking process.
Tuesday 5 July - Pamplona Arrival
Welcome to Pamplona! Campsite arrival details will be available on our tour website four weeks before the festival. We have coach transfers available this afternoon from Pamplona bus station to our Pamplona campsite. The campsite is also accessible by taxi (approximately €25) from Pamplona bus or train stations.

Optional arrival transfers are available today from Bilbao airport and Barcelona (city centre & airport). These can be added when making your booking or can be booked separately later.

Check-in is available at our campsite from 10am to midnight. If you arrive after midnight a contact number will be posted at the campsite reception and our check-in crew will come out to meet you. Upon arrival your tents are all set up and ready for you along with your camping luxury pack - or you can choose our campsite dorm bunks when making your booking.

This afternoon our coach shuttles run into town for our orientation walks along the bull run course after which you can look around Pamplona's old town centre and sample some of the city's famous tapas bars.

Tonight we get into the fiesta spirit at our campsite with hundreds of fellow Fanatics passengers and plenty of sangria! Our live band will be kicking off a massive night at the campsite on the eve of the San Fermin fiesta!

Wednesday 6 July - San Fermin Opening Ceremony
Today sees the opening ceremony of the San Fermin festival and the biggest street party you will ever see! This morning people gather in front of the town hall where at midday Pamplona's mayor lights the firework officially starting the festival. If you would prefer to avoid the tight crowds in front of the town hall you can watch the events unfold via the big screens in the main square.

The champagne & sangria then starts flying throughout the old town centre and an afternoon of unbelievable street partying follows. From the town hall and main square the party moves along to the St Cecilia Fountain and up to Mirador del Caballo Blanco (White Horse lookout).

The festivities continue through the afternoon, once you've had your fill you can head back to camp on our coach shuttles from the bus station. Then have a swim in the campsite pool and grab some dinner from the restaurant before our band cranks things up again at tonight's campsite party!

Thursday 7 July - First Bull Run & Street Fiesta
This morning our coach shuttles head off bright and early for the short ride into town where we get in position for the 8am bull run. To watch the bull run you have the option of finding a place along the street barricades or heading into the bull ring to watch the bulls and runners enter the stadium and the release of the year-old bulls into the arena. Anyone interested in renting a place on a balcony along the bull run course should look into that during the orientation walk on 5 July.

After the bull run Pamplona's 'Parade of Giants & Big-Heads' departs the town hall and heads through the streets of the old town centre. Then our shuttles return you to camp where breakfast will be served.

Today we have an optional day trip to the amazing coastal town of San Sebastian, well regarded as one of Spain's most beautiful beaches and traditional old cities. It's a great day and sure to energize the batteries after the madness of the San Fermin festival. You can add this when making your booking or book separately later.

This evening we jump on board our transfers into town ready for the huge nightly fiesta including street parties, a massive fireworks display, and loads of tapas bars pumping out the tunes. Tonight hundreds of Fanatics t-shirts will be lining Calle San Nicolas as we get stuck into the Spanish party in a big way!

Our shuttles back to camp operate till late in the night allowing you to kick on before catching a few hours' sleep.

Friday 8 July - Second Bull Run & Ibiza Transfer
This morning's second running of the bulls takes off at 8am and this time you'll be there with a trained eye. It's a great chance to experience the running from a different vantage point and catch the thrills and spills of all the action!

Following this morning's bull run we board our transfer coaches ready to make our way to the party island of Ibiza! Our coach/flight transfer option will arrive into Ibiza at around 9pm (coach to Barcelona/Madrid airport & 1-hour flight to Ibiza).

After checking in at our accommodation we head out to experience Ibiza's legendary nightlife. Tonight's party venue & DJs will be announced prior to the tour when Ibiza's club schedule is finalised - every year we get great discounted club tickets which will be available for all Fanatics passengers to purchase during the tour.

Rest assured, cheap pre-club drinks are part & parcel of our nights in Ibiza - supermarkets next door sell icy cold bottled beers, cider & mixers, plus our nearby bars offer our groups amazing happy hour deals making it way easier on the pocket!

Saturday 9 July - Ibiza Beaches & Partying
Today you have the option of joining our boat trip to one of Ibiza's best beaches (return day trip only €10 per person), or you can create your own adventure to check out the incredible array of beaches this island has to offer. This is the perfect day for you to venture out to some of Ibiza's out-of-the-way gems that most people who visit don't make it to.

This evening we get things underway with a short stroll up to the cafe area perched on the headland to witness Ibiza's stunning sunset, then it's time to hit the famous Ibiza nightclub scene for another massive night!

For those looking to avoid back-to-back all-nighters we also offer the option of a more relaxing evening in town.

Sunday 10 July - Ibiza Beaches & Partying Day 2
Today is sure to be a slow-ish start and today's trip to the beach is always the perfect remedy. There are plenty of activity options for those of you with the energy - including sunset boat cruises, water sports and plenty more (local agents offer amazing deals, there's no need to pre-book before you arrive in Ibiza).

This afternoon we'll re-group and head to the famous Bora Bora beach where the beats are cranking with thousands soaking up the atmosphere.

Tonight you've got the option of another nightclub session or spending a more chilled-out evening at some of the island's restaurants and local bars.

Monday 11 July - Ibiza Check-Out
This morning we check out of our accommodation. There are a number of departure options depending on your plans after Ibiza including taking the ferry back to the mainland or flying directly out of Ibiza.
---