Pamplona 2022 - Opening Ceremony Pamplona Camping
Pamplona 2022 - Opening Ceremony Pamplona Camping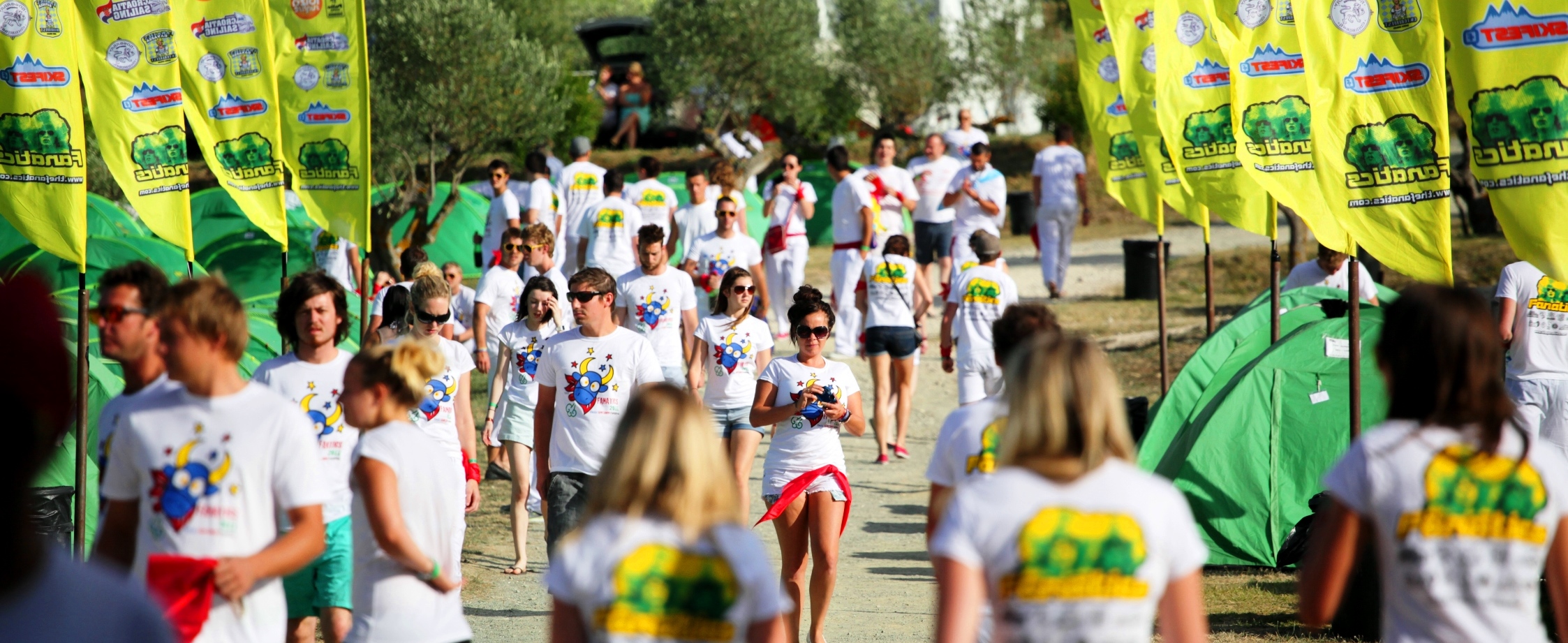 Overview
Register your details HERE and we will keep you updated with details for our 2022 packages!
With the unrivalled convenience of our campsite, quick & easy shuttles into town, unbeatable Fanatics group atmosphere, experienced Pamplona tour guides, funky tour merchandise, plus pre-erected Fanatics tents, our tours simply cannot be beaten.
Book your place now and get ready for the experience of a lifetime!
Opening Ceremony Package Dates
Packages are available for 3, 4, 5 or more days - simply select your desired package dates below. You can even make it a whole week by extending your check-out date during the booking process.
Arrival:
Monday 4 or Tuesday 5 July
Departure:
Thursday 7, Friday 8 or Saturday 9 July
The incredible
San Fermin Opening Ceremony
at midday on 6 July is the most sensational street party you will ever see - a highlight of most travellers' European summer! The
morning bull runs
begin on 7 July and continue daily throughout the festival. Staying on past 7 July means you can also experience the
nightly street fiestas
when the true spirit of the festival is in full swing!
Our tour crew are on hand throughout your stay to answer any questions you may have and escort you to the bull runs & street parties in town.
San Sebastian Day Trip
Our San Sebastian Day Trip on 7 July is available to passengers booked on any Fanatics camping packages. The tours depart camp in the morning after the bull run and return in the early evening ready for you to get stuck into the Pamplona buzz at camp & in town in the evening. You can add the day trip when making your booking.
Getting to Pamplona
Flights to Pamplona and surrounding airports (Bilbao, San Sebastian, Santander) are operated by
EasyJet
,
British Airways
and
Iberian Airlines
.
For train travel to Pamplona go to
Trainline
or
Renfe
and for coach travel try
Monbus
,
La Union
or
Alsa
.
Any Questions?
Email us at
tours@thefanatics.com
if you have any questions about the tour.
Inclusions
All-inclusive camping at the closest campsite to Pamplona

Single share tent upgrade at no extra cost - no sharing with randoms!

Dorm bunk upgrades also available

Breakfast daily at the campsite - all you can eat!

Free coach transfers between camp & town - early morning till late night!

Pre-erected tents with sleeping mat & pillow

Fanatics Street Fiestas with free sangria

Funky Fanatics running-of-the-bulls souvenir T-shirt

Fanatics San Fermin Pañuelo (neck scarf)

Guided walk of the bulls course with our experienced bull runners

Champagne Opening Ceremony on 6 July

Run with the bulls (or watch safely in the stands!)

Experienced Fanatics Pamplona tour leaders

Optional San Sebastian beach day trip
Our Campsite
All-Inclusive Camping Luxury!
Single-share tents
are included as standard for all campers - no sharing with randoms! Our tents are large enough to sleep three adults so if you want to share a tent with a friend then that's fine too, you can even use a spare tent to keep your backpacks in.
Sleeping mats & pillows
are ready in your tent which is pre-erected ready for when you arrive. Sleeping bags are available at the campsite if you're not travelling with one. We've got everything to make your stay at our campsite as comfortable as possible!
Bunk beds
are available in the campsite's hostel-style dormitory if a tent's not your thing, select during the booking process.
Modern campsite facilities
greet you with loads of clean showers & WCs, an amazing swimming pool, restaurant, bar & mini-market plus nightly entertainment from our live band & resident DJ. Personal lockers are available to store your valuables and we also have a 'chill-n-charge' station for your phone. If driving the campsite has car parking available for €15 per day.
Fanatics Shuttle Service
Our campsite is just 7km/8 mins from the heart of Pamplona - the next closest campsite is more than 30 kms outside of town! Our
premium shuttles
run more often and for longer hours than anyone else's meaning you'll experience more of Pamplona's Running of the Bulls festival with Fanatics. We pride ourselves on providing the most comprehensive & regular shuttle service in & out of the city centre, bar none!
We invest more in our shuttle service than anyone else, meaning you're able to whizz into town and back to camp around the clock at your leisure. While most other people are lined up a hundred deep & wondering if their bus will ever turn up, Fanatics passengers are already in town enjoying the street fiestas & sangria!
Campsite Restaurant & Bar
The camspite has a mini-market and restaurant serving a range of meal options.
We've arranged some incredible deals at our campsite bar so you can stay hydrated for next to nothing. The bar has a full range of spirits & mixers as well as beer and sangria on sale by the quarter-, half- or three-quarter-litre at bargain prices!
Walking Tours
Escorted walking tours
of Pamplona's running of the bulls course are included. Our expert bull runners will point out where the bulls are running, the best places to view the run - including options for balcony viewing - as well as the party locations we'll be using for our famous street fiestas.
Souvenir bulls t-shirt & scarf
are included in your package to ensure you look the part. Festival white shorts & trousers are available at camp.
Massive Town & Campsite Parties!
Our 7 July street fiesta includes free sangria, while the opening ceremony party is one that has to be seen to be believed! Staying at the closest campsite to town plus our extensive coach shuttle service means you won't miss out on any of the Pamplona party action!
Back at camp the party continues complete with live band and DJ, plus the campsite bars loaded up with plenty of sangria & cerveza means the festival atmosphere doesn't stop!
Itinerary
Tuesday 5 July - Pamplona Arrival
Welcome to Pamplona! Campsite arrival details will be available on our tour website four weeks before the festival. We have coach transfers available this afternoon from Pamplona bus station to our Pamplona campsite. The campsite is also accessible by taxi (approximately €25) from Pamplona bus or train stations.

Check-in is available at our campsite from 10am to midnight. If you arrive after midnight a contact number will be posted at the campsite reception and our check-in crew will come out to meet you. Upon arrival your tents are all set up and ready for you along with your camping luxury pack - or you can choose our campsite dorm bunks when making your booking.

This afternoon our coach shuttles run into town for our orientation walks along the bull run course after which you can look around Pamplona's old town centre and sample some of the city's famous tapas bars.

Tonight we get into the fiesta spirit at the campsite with our fellow Fanatics passengers and plenty of sangria as we kick off a massive night at the campsite on the eve of the San Fermin fiesta!

Wednesday 6 July - San Fermin Opening Ceremony
Today sees the opening ceremony of the San Fermin festival and the biggest street party you will ever see! This morning people gather in front of the town hall where at midday Pamplona's mayor lights the firework officially starting the festival. If you would prefer to avoid the tight crowds in front of the town hall you can watch the events unfold via the big screens in the main square.

The champagne & sangria then starts flying throughout the old town centre and an afternoon of unbelievable street partying follows. From the town hall and main square the party moves along to the St Cecilia Fountain and up to Mirador del Caballo Blanco (White Horse lookout).

The festivities continue through the afternoon, once you've had your fill you can head back to camp on our coach shuttles from the bus station. Then have a swim in the campsite pool and grab some dinner before things crank up again at tonight's campsite party!

Thursday 7 July - First Bull Run, San Seb Day Trip & Street Fiesta
This morning our coach shuttles head off bright and early for the short ride into town where we get in position for the 8am bull run. To watch the bull run you have the option of finding a place along the street barricades or heading into the bull ring to watch the bulls and runners enter the stadium and the release of the year-old bulls into the arena. Anyone interested in renting a place on a balcony along the bull run course should look into that during the orientation walk on 5 July.

After the bull run Pamplona's 'Parade of Giants & Big-Heads' departs the town hall and heads through the streets of the old town centre. Then our shuttles return you to camp where breakfast will be served.

Today we have an optional day trip to the amazing coastal town of San Sebastian, well regarded as one of Spain's most beautiful beaches and traditional old cities. It's a great day and sure to energize the batteries after the madness of the San Fermin festival. You can add this when making your booking or book separately later.

This evening we jump on board our transfers into town ready for the huge nightly fiesta including street parties, a massive fireworks display, and loads of tapas bars pumping out the tunes. Tonight hundreds of Fanatics t-shirts will be lining Calle San Nicolas as we get stuck into the Spanish party in a big way!

Our shuttles back to camp operate till late in the night allowing you to kick on before catching a few hours' sleep.

Friday 8 July - Second Bull Run
This morning's second running of the bulls takes off at 8am and this time you'll be there with a trained eye. It's a great chance to experience the running from a different vantage point and catch the thrills and spills of all the action!

If you are departing Pamplona straight after the morning bull run, simply take your bags with you on our shuttle coaches into town in the morning and store them at the left luggage service inside Pamplona coach station.
---