La Tomatina 2022 - Valencia Beach Campsite Dorm Bunks
La Tomatina 2022 - Valencia Beach Campsite Dorm Bunks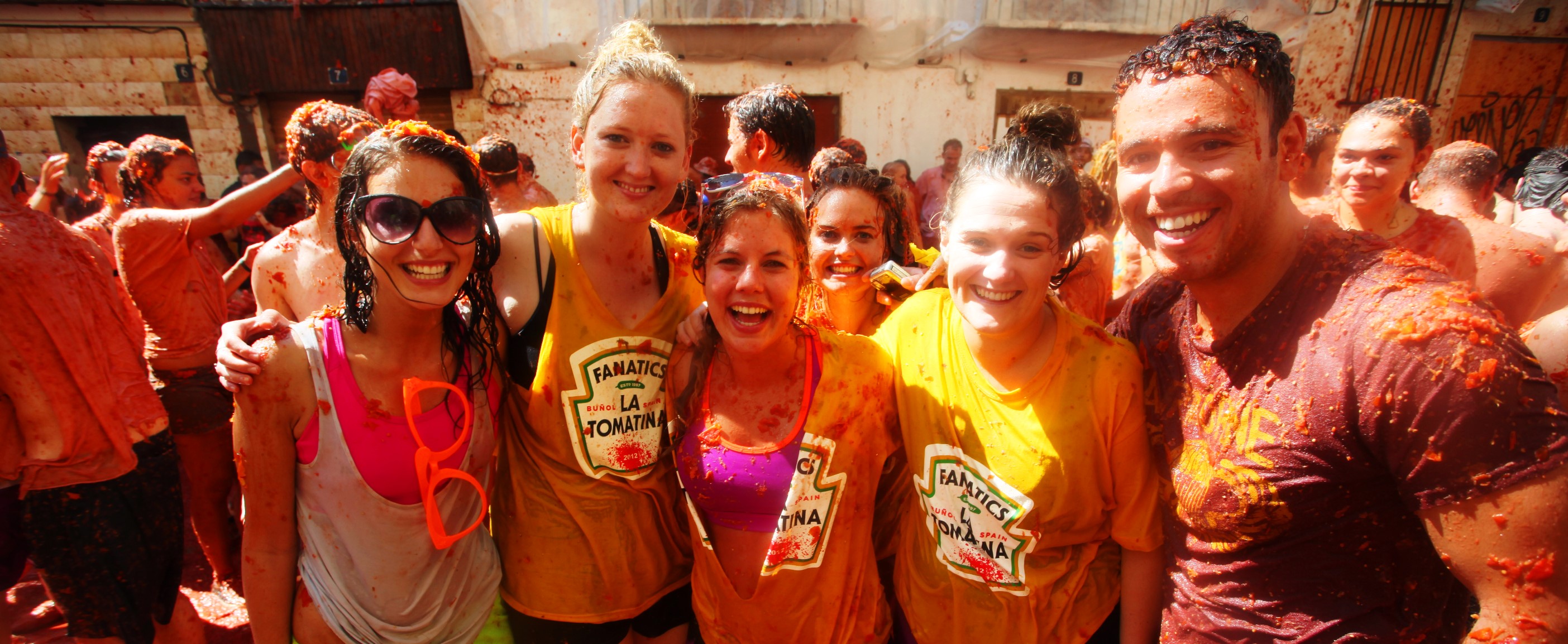 Overview
Register your details HERE and we will keep you updated with details for our 2022 packages!
Valencia in August offers perfect camping conditions with overnight temperatures around 20 degrees and warm, sunny days providing perfect beach weather!
The campsite offers full on-site amenities, is just two minutes from the beach and has easy transport links to the heart of Valencia. Sun, sea, sand, sangria... and tomatoes!
Valencia
Valencia is a vibrant, beach-front metropolis and the third-largest city in Spain. It's the sort of city that most Aussie's and Antipodeans would find very familiar with awesome beaches, plenty of sun and a cracking nightlife.
Getting to Valencia
Direct flights from London to Valencia are available on
Iberia
,
British Airways
,
EasyJet
and
Ryan Air
. Valencia Airport is connected to the city centre by the local metro.
Valencia is also accessible from other Spanish cities by train and coach, see
Trainline
,
Renfe
or
Movelia
for details.
Any Questions?
Email us at
tours@thefanatics.com
if you have any questions about the tour.
Inclusions
Two or three nights camping or air-conditioned bunk-bed dorms

Entry ticket to La Tomatina - the world's biggest food fight!

Return coach to Bunol for the tomato throwing

Campsite only minutes walk to the beach

Pre-festival Street Fiesta in Valencia's old town

Free sangria on arrival in Bunol

Official Tomatina After-Party

Superb campsite social atmosphere

Fanatics La Tomatina t-shirt
Our Campsite
Fanatics campsite is situated on Valencia's long stretch of beaches along the national park & seaside belt that hugs the coast of this amazing city. The coastal stretch here on the southern edge of the city is dotted by typical Spanish seaside villages giving the a distinct holiday feel, but still within easy reach of the city centre.
Campsite features include:
Fully air-conditioned dorm rooms of 8-12 beds

Swimming pool with sun terrace

Mini-market, bar/restaurant

Clean hot showers, WC & washing facilities

Superb summer holiday atmosphere
Single Travellers & Groups
Our tours are the ideal way to get stuck into La Tomatina and everything that goes along with it.
We make it an absolute priority to ensure everyone on our tour is part of the group. So whether you're coming on your own or with a big bunch of friends, you'll instantly be mixing it up with an awesome bunch of fellow travellers all ready to share this experience of a lifetime together.
Itinerary
Monday 29 August - Optional Extra Night & Campsite Party
Welcome to Valencia! Make your way to our campsite for check-in and prepare to get right into the beach holiday spirit from the word go. Arrival details will be on our tour website two weeks before the tour.

Check-in is available at our campsite from 10am to midnight. Dormitories consist of 8-12 bunk beds, a €10 cash key deposit will be collected at check-in. Then slip into your swimmers & thongs and get down to the beach for a swim!

Tonight is our campsite opening party as we meet all our fellow travellers and get the La Tomatina spirit into full swing.

Tuesday 30 August - Valencia Sightseeing & Old Town Party
Today is a full day of summer fun. We start with a refreshing morning swim before heading back to camp to enjoy the good value breakfast that is available for you to purchase at the campsite (€4-€5).

Check-in is also available today for our Tuesday-Thursday packages.

The rest of the day is as jam packed or as lazy as you'd like. Soak up the sun down at the beach, join in some beach cricket or footy, have a dip & laze around the campsite pool, or head into town for some of what Valencia has to offer from the historic old town centre to the futuristic City of Arts & Sciences.

Tonight is our big pre-festival Tomatina party together with all Fanatics passengers from our various accommodation options. The warm Spanish nights are ideal for outdoor drinking & socialising and the old town centre will be in lively anticipation of tomorrow's massive La Tomatina fiesta!

Wednesday 31 August - La Tomatina & Official After-Party!
This is it! We rise bright & early and board our coaches for the one hour drive to Bunol. On arrival the sense of anticipation is buzzing as we grab a flask of free sangria, wind our way down to the town centre and take up position ready for the countdown to the arrival of the tomato trucks and all the carnage that inevitably follows.

After the last tomato has been thrown, the tonnes of ripe tomato juice swept away and as much debris washed from our sodden bodies as possible, we board the coaches and make our way back to Valencia.

Tonight we get together with fellow festival particpants at the Official Tomatina After-Party!

Thursday 1 September - Depart Valencia
This morning it's time to check-out of the campsite as we bid farewell and continue on your travels through Spain and Europe. Local bus services from right out the front of the campsite offer easy access to the city/main train station with simple connections via subway to the airport.
---