La Tomatina 2022 - LaTom & Ibiza Combo
La Tomatina 2022 - LaTom & Ibiza Combo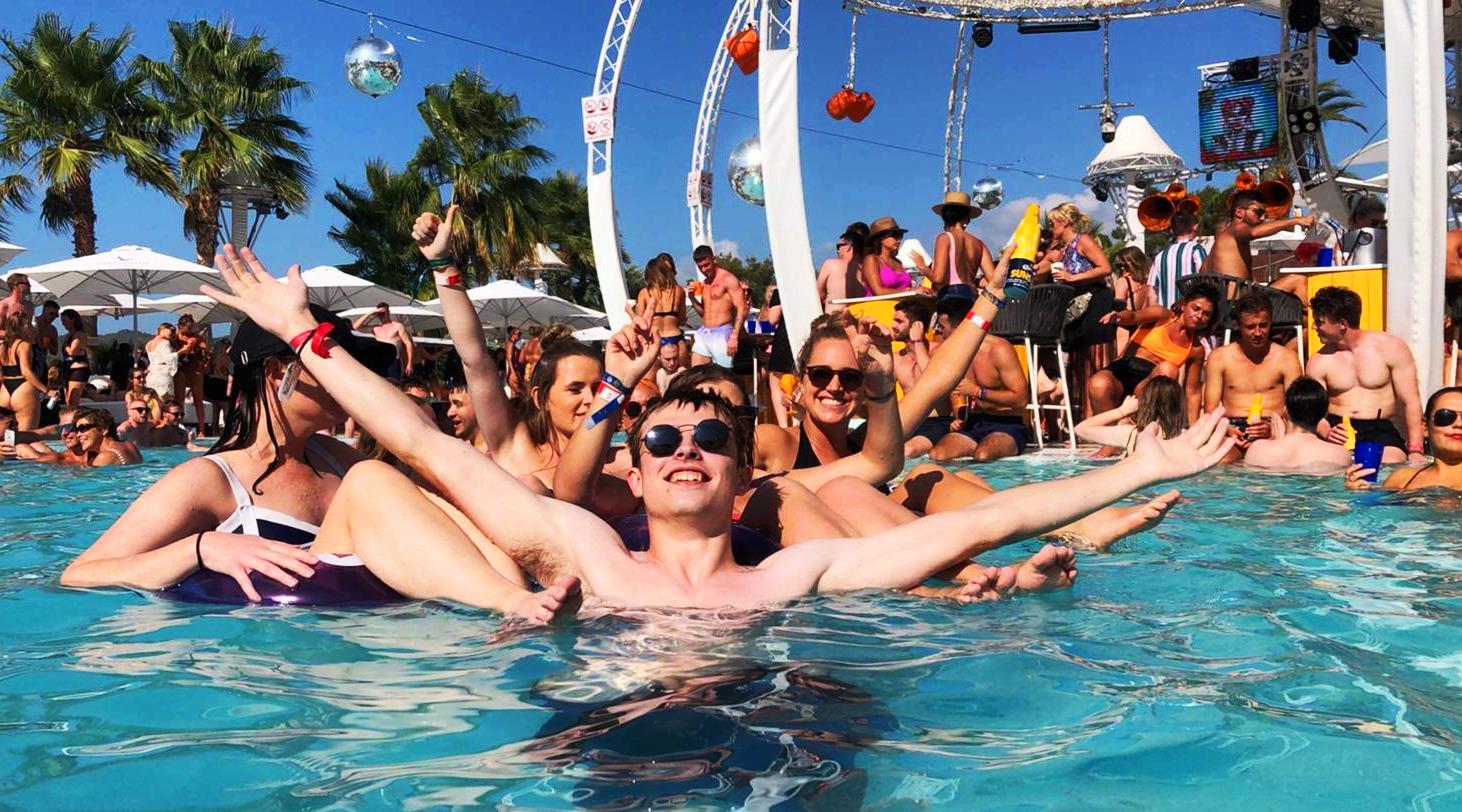 For those of you keen to keep that fiesta feeling going why not join us as we hit the famous party island of Ibiza after La Tomatina!
After all the craziness of La Tomatina and our Valencia parties we're heading over on the ferry for three action-packed days and nights in Ibiza. In addition to its world famous summer party scene, Ibiza is seriously one of the most beautiful Mediterranean islands you could hope to find.
Tour Starts:
Valencia, Monday 29 or Tuesday 30 August
Tour Finishes:
Ibiza, Sunday 4 September
Valencia
Valencia is a vibrant, beach-front metropolis and the third-largest city in Spain. It's the sort of city that most Aussie's and Antipodeans would find very familiar with awesome beaches, plenty of sun and a cracking nightlife. Choose from beach camping, hostel or hotel accommodation options.
Ibiza
Long famous amongst the Spanish as an island of unrivalled beauty and choc-full of secluded beaches, the island of Ibiza has since become synonymous with
party!
for young people from all over Europe and beyond. Our three nights on the island combines the best of both worlds with plenty of time set aside for partying and chilling out on Ibiza's pristine beaches & crystal clear waters.
Getting to Valencia
Direct flights from London to Valencia are available on
Iberia
,
British Airways
,
EasyJet
and
Ryan Air
. Valencia Airport is connected to the city centre by the local metro.
Valencia is also accessible from other Spanish cities by train and coach, see
Trainline
,
Renfe
or
Movelia
for details.
Any Questions?
Email us at
tours@thefanatics.com
if you have any questions about the tour.
Inclusions
Two or three nights Valencia camping, hostel or hotel accommodation

Return private coach transfers to Bunol for the tomato throwing

Entry ticket to La Tomatina - the world's biggest food fight!

Coach & ferry transfer from Valencia direct to our hotel in Ibiza

Three nights apartment accommodation on Ibiza

Funky Fanatics La Tomatina tour t-shirt

Ibiza parties, bars, clubs & beaches
Ibiza Partying
Every year we party at the biggest & best clubs in Ibiza including Amnesia, Privilige, Space, Eden & more. We have exclusive access to tickets ensuring everyone on our tour is able to party together with the biggest DJ's on the island - whether it's Dave Guetta, Too Many DJs, Fat Boy Slim, Hedkandi, Paul van Dyk, Pete Tong, Tinie Tempah, Tiesto, Cream, Zoo Project or more, you'll be partying in style!
If the club scene isn't your thing, or at least not every night, rest assured Ibiza offers much more than just all-night partying and our reps organise group activities each day & night. Amazing beaches, top quality plus excellent budget restaurants, relaxing cafes, all manner of water sports, and a holiday vibe to suit every taste.
Ibiza Accommodation
The incredible
Ibiza Feeling Hotel
, located right in the middle of San Antonio's West End, is the perfect base from which to get the most out of everything Ibiza has to offer. Superclubs, pre-club bars, beaches and sightseeing cruises are all just a stone's throw away.
Rooms sleep two people (two single beds) and have a private bathroom and air-conditioning. Guests have access to the outdoor pool at the hotel next door with sun terrace, loungers & poolside bar.
Itinerary
Monday 29 August - Optional Extra Night
Select our three night option and get the most out of your Valencia experience. Explore Valencia's old town centre, modern City of Arts & Sciences or kick back at the beach ahead of tonight's opening night party!

Tuesday 30 August - Valencia Beach & Old Town Party
Today we head to Valencia's main city beach to soak up some of the Spanish sun & sangria!

Arrival details for people checking in today will be online two weeks before the tour. All our tents are pre-erected ready for you to lob straight in, or select our air-conditioned dorm bunks.

Tonight is our big pre-Tomatina party together with all Fanatics passengers from our various accommodation options. The warm Spanish nights are ideal for outdoor drinking & socialising and the old town centre will be in lively anticipation of tomorrow's massive La Tomatina fiesta!

Wednesday 31 August - La Tomatina!
This is it! We rise bright & early and board our coaches for the one hour drive to Bunol. On arrival the sense of anticipation is buzzing as we wind our way down to the town centre and take up position ready for the countdown to the arrival of the tomato trucks and all the carnage that inevitably follows.

After all the last tomato has been thrown, the tonnes of ripe tomato juice swept away and as much debris washed from our sodden bodies as possible, we board the coaches and make our way back to Valencia.

Tonight all Fanatics groups come together at our post-La Tomatina club party in Valencia's university district.

Thursday 1 September - Valencia to Ibiza
Today we have some more beach and pool time before jumping on our private coach transfers to the port and board the ferry to Europe's ultimate party island - Ibiza! After checking into our Ibiza accommodation we get stuck into the island's party scene. Discount tickets for tonight's selected club will be available to purchase on arrival in Ibiza.

Rest assured, cheap pre-club drinks are part & parcel of our nights in Ibiza - supermarkets next door sell icy cold bottled beers, cider & mixers, plus our nearby bars offer our groups amazing happy hour deals making it way easier on the pocket!

Friday 2 September - Ibiza Beaches & Party
Today you have the option of relaxing by the hotel pool & nearby beach, or join in the fun on our group day out as we head across the harbour to spend the afternoon at one of the best beaches this incredible island has to offer (return boat ride €10). This is the perfect chance to venture out & see Ibiza's out-of-the-way gems that most people don't get to see.

After returning to the hotel and freshening up, this evening is always one of the highlight's of the tour as we head out to witness the world's most spectacular sunset, the perfect tonic to get the night underway. Tonight, of course, we once again hit the famous Ibiza nightclub scene for an amazing Friday night!

Saturday 3 September - Ibiza Beaches & Party Day 2
Today presents a range of options - just ask the Fanatics crew for details about diving, parasailing, boat cruises and loads more. This afternoon we head out for a dose of Ibiza's famous chilled out arvo beach & beats sessions (which always warm up by sundown!), then tonight there's the option of kicking on for another night of clubbing or taking it a little easier at some of the island's great value restaurants and local bars.

Sunday 4 September - Depart Ibiza
This morning we check out of our hotel. There are a number of departure options depending on your plans after Ibiza including taking the ferry back to the mainland or flying directly out of Ibiza.
---